Why Barcelona as a destination?!
Why Barcelona as a destination? Our last event, mid-November, a combination of a Bike tour (in t-shirts), Sailing with Wine tasting and a Tapas walking tour says it all. Barcelona´s weather is unbeatable. If this was not enough, the combination of city life beach and the nearby Pyrenées pretty much make the options endless.
Still not convinced? Check out below: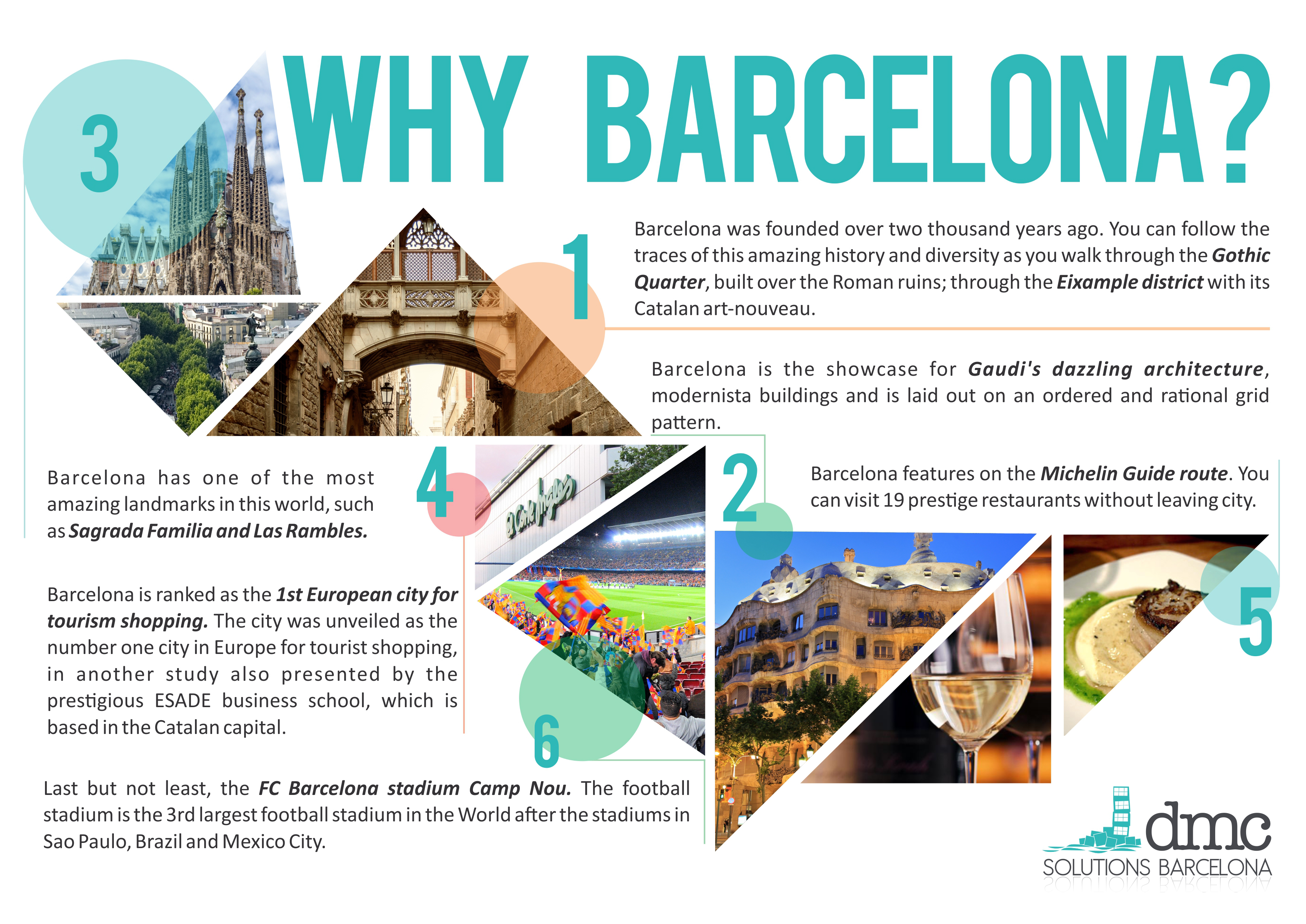 By now you should be convinced about Why Barcelona as a destination. Now-why should you organize your event in Barcelona?
To add to the great climate we, of course, have our cuisine. When visiting Barcelona, one of the highlights is the food. Not only Catalonia is a beautiful region but also boasts some of the best gourmet delicacies in Spain. Typical food in Barcelona is quite different from what you might have in mind if you have tried traditional dishes in other parts of the country. Esqueixada de bacallà, Arròs Negre and Fideuà are just a few examples of delicious plates you can try on your next event!
Another must mention is the plethora of hotels and even more so business hotels that specialize in MICE, with endless options on meeting spaces as well as different categories. Diagonal, the street that crosses the entire city of Barcelona offers great options throughout the boulevard. You will find Hilton, Nh, AC Marriott and of course a variety of boutique options as well as 5 stars!
Professionals around the world can come to Barcelona to connect, network, learn and recharge. Where to hold your next meeting, event, conference or incentive should be an easy decision!
Why us at DMC solutions Barcelona?!
Why Barcelona as a destination has now been answered. Let´s move on to us!
WE HAVE BEEN RUNNING FOR OVER 10 YEARS, AND WE ARE QUITE UNIQUE IN THE SENSE THAT WE ONLY
OPERATE IN BARCELONA AND AROUND CATALONIA.
THIS MEANS THAT WE PUT EFFORT INTO KEEPING UP WITH ALL NEW PROVIDERS THAT OUR CITY HAS TO
OFFER AND MAKE SURE WE KNOW OUR PROVIDERS ON A PERSONAL BASIS.
ANYTHING THAT BARCELONA HAS TO OFFER; WE OFFER OUR CLIENTS TOO!
Contact us at info@dmcsolutionsbarcelona.com
/Speak to you soon!